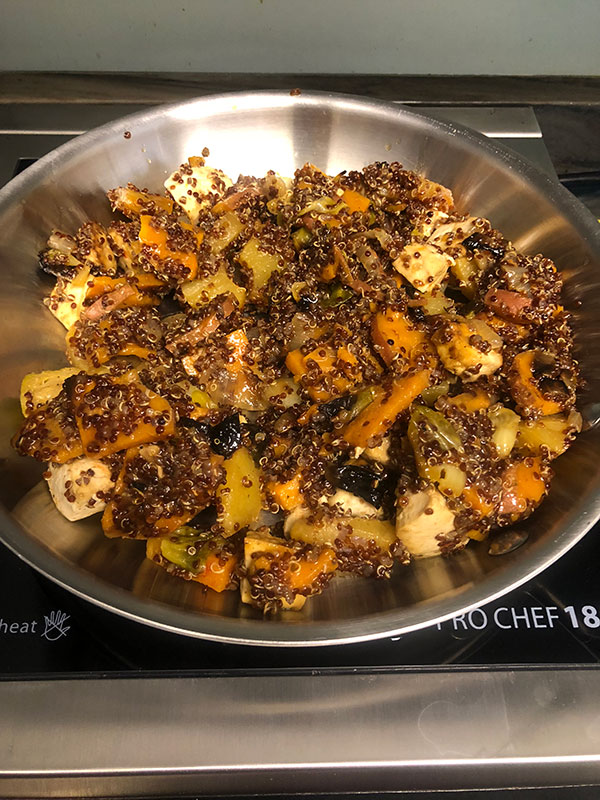 What is awesome about this dish is that you can cook it all together on one sheet pan and it comes out beautifully. I happened to have some tofu I wanted to make, but you can use other protein sources such as chicken, beef, or pork, for example. Of course, all veggies are awesome! I used what I had on hand – which may seem like a weird combination, but it was delicious!
Ingredients:
1 sweet potato, cubed
2 sweet onions, chunked
1 cup Brussels sprouts, halved
½ fresh pineapple, cubed (or 1 can of chunks)
2 tubs organic tofu, drained, dried, cubed
1 cup red quinoa, cooked
Olive oil
Seasoning:
1-2 tsp garlic powder
½ tsp Kosher salt
½ tsp lemon pepper
1 tsp parsley flakes
1 tsp dried oregano
½ tsp smoked paprika
1 Tbsp fresh cilantro, chopped
Juice of 1 lime or lemon
Garnish: Additional lime wedges and chopped fresh cilantro
Optional: I served this with "make your own sauce" and little bowls at each plate. I supplied teriyaki, soy sauce, pepper jam, Sriracha, hot sauce, and peanut sauce. We each mixed our own combination and added it to the mixed dish. Fun and yummy. (My favorite was teriyaki mixed with pepper jam.)
What to do:
Preheat oven to 425 degrees F.
Mix seasonings in a small bowl.
Drizzle sheet pan with olive oil.
Place chopped veggies, pineapple, and tofu on sheet pan. Toss with dry seasonings and lime juice, coating thoroughly. Adjust level of seasoning and olive oil to your preference. I like to drizzle with a little more olive oil (and I used citrus olive olive).
Roast in 425 degree oven for approximately 20 minutes. Turn once during cooking.
Mix with cooked quinoa. Add sauce and a splash of Sriracha. Garnish. ENJOY!