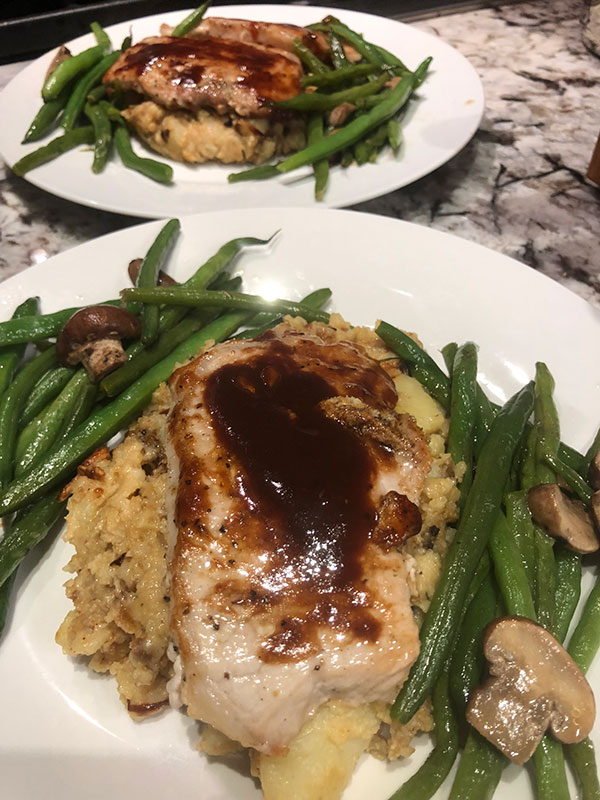 What you need:
5 thin cut pork chops
Garlic powder
Oregano
Salt/pepper
Olive oil
*Optional: a little BBQ sauce
5 large Yukon Gold potatoes, quartered
1 clove garlic, chopped (optional)
1 small onion, chopped (optional)
2 T butter or olive oil (adjust as needed)
Salt/pepper
*Other tasty herbs: dill, oregano, parsley
1 pound fresh green beans, tops snipped
5 or 6 baby bella mushrooms, sliced
1 T butter or olive oil
Salt/pepper
*Optional: add garlic or other favorite herbs
What to do:
Season pork chops with garlic powder, oregano, salt/pepper or other favorite rubs, coating both sides. Set aside on a plate.
Start potatoes. Bring large pot of water to boil. Add 1 T of salt to water. Add quartered Yukon Gold potatoes and cook until done, about 20 minutes. Drain. In the same pot, add butter/olive oil. Add garlic and onion. Sautee until fragrant. Add potatoes back into the pot with the herbed butter. Smash potatoes with a potato masher, tossing to coat. Turn off heat and rest with cover.
Cook green beans. While potatoes are boiling, heat about about 1-2 cups of water with salt in a sauce pan and add green beans. Blanch until just done. Drain and remove from heat. Add butter/olive oil and sliced mushrooms, salt/pepper to taste. Remove from heat.
Cook the pork chops. Heat small amount of olive oil in a frying pan. Add seasoned pork chops and cover. Cook a few minutes per side. Remove from heat. Brush with a little BBQ sauce if desired.
Plating: smashed potatoes in the middle, pork on top, green beans on either side. DONE! Fast and Delicious!