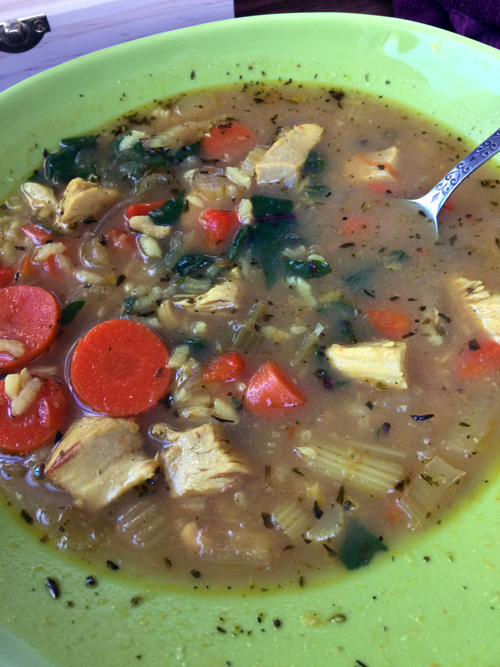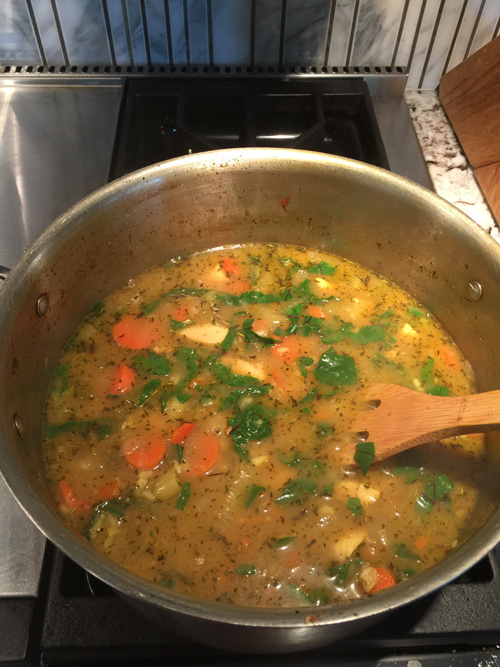 Chicken soup is a hearty dish that can be made a little differently each time you make it. Not only good for fighting a cold, chicken soup tastes great! This version can me be quickly without having to simmer all day long by using chicken breast and chicken stock instead of simmering a whole chicken, if you do not have time for that.
Adding healing ingredients such as turmeric, chili peppers, beet greens, garlic, and fresh herbs provide additional healing agents to an already positively medicinal dish!
Ingredients:
2 chicken breasts, cut into cubes
1-2 T olive oil
12 garlic cloves, chopped
2 sweet onions, chopped
3 carrots, sliced
5 stalks of celery, chopped
1 sweet red pepper, chopped
3 handfuls of fresh kale or beet greens, chopped
1 T fresh parsley, chopped
2 t dried chervil
2 t turmeric powder (or 3 t fresh grated root)
Fresh ground pepper and sea salt
Dash of chili flakes or chipotle
32 ounces chicken broth, organic
2 T apple cider vinegar
Water
1 cup Arborio rice
What to do:
Heat olive oil in a large stock pot.
Saute chopped garlic and onion until translucent.
Add chopped chicken to garlic-onion mixture and cook, stirring frequently.
Add carrots and celery along with about a cup of water. Continue to cook over medium heat. Add another cup of water.
Add seasonings, stirring frequently. Add chicken broth.
Add red pepper, kale or beet greens.
Add apple cider vinegar. Add more water as needed.
Stir in 1 cup of uncooked rice. Continue to simmer. Adjust seasonings as needed. Continue to simmer for another 30-45 minutes.