Many people who are trying to eat healthy shy away from making the "comfort foods" that many of us grew up with. Many of those recipes included canned cream soups that contain a number of chemicals among other things. This tuna casserole can be whatever you want it to be! Use your imagination! Here's my version with some added ideas/comments.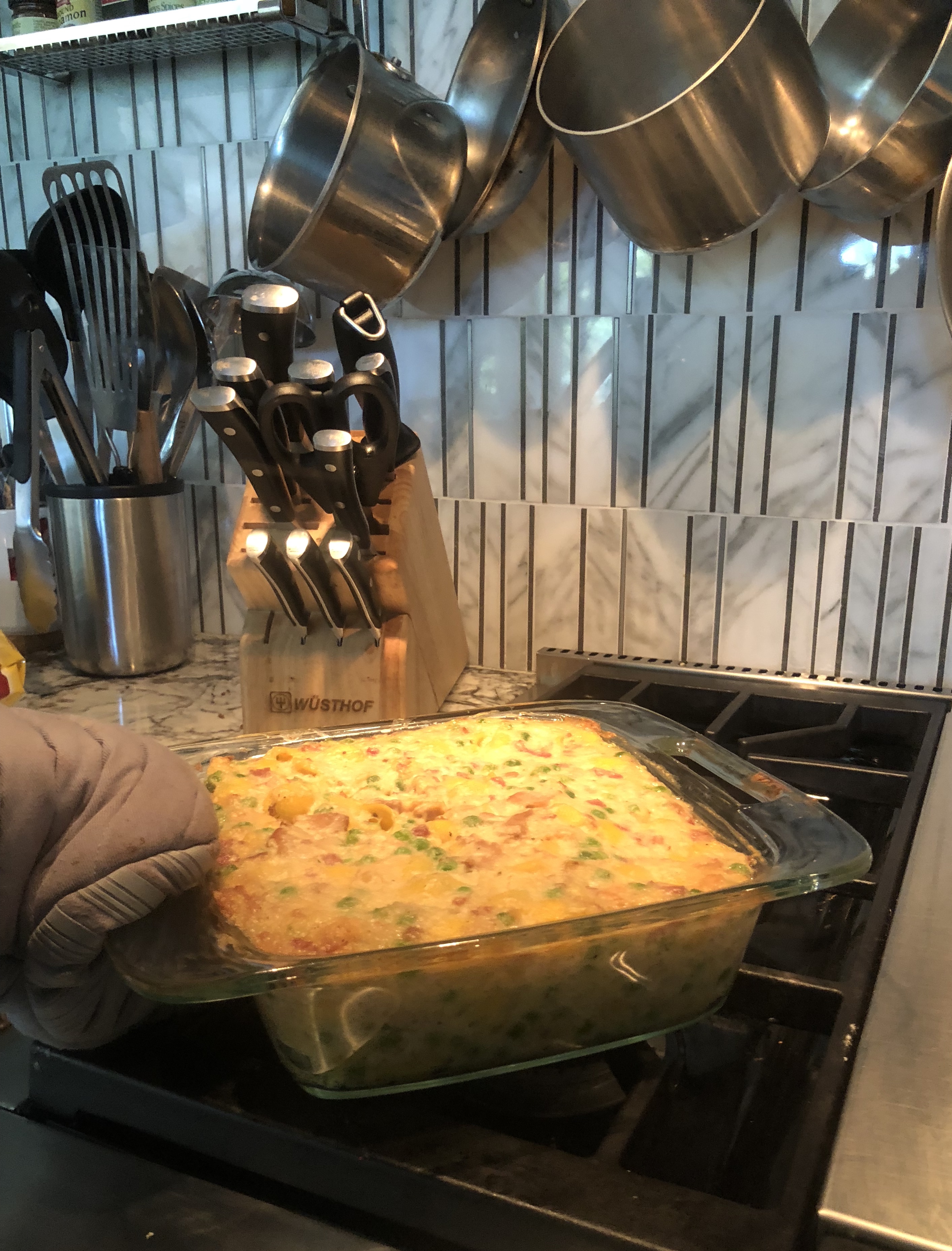 What you'll need:
8 ounces gluten free pasta, such as linguine or fettuccine (I used quinoa small pasta shells. *You can also substitute spaghetti squash plus an egg for binding. Be sure to drain the squash well)
4 T butter or coconut oil
1 medium yellow onion, chopped
2 celery stalks, chopped
4 cloves garlic, chopped
3 pieces prosciutto, chopped
6 baby portabella mushrooms, chopped
1/4 cup gluten free flour, approximate
2-1/2 cups unsweetened milk of your choice, approximately (I used Soy this time)
½ cup water, approximate, if needed to thin sauce (Or vegetable broth if you have some handy)
1/4 cup non-dairy soy mayonnaise (I used Vegan Chipotle Mayo for a little extra flavor)
1 T Dijon mustard (or yellow), adjust to your taste – I like 2 T!
Zest of one lemon
1 teaspoon salt, adjust to taste
1/4 teaspoon black pepper, adjust to taste
1 teaspoon parsley (Or 1 T fresh)
1 teaspoon Herbs de Provence
1 10-ounce bag frozen peas, thawed (use whatever you have on hand – fresh broccoli, cauliflower, spinach, red peppers – all good)
12 ounces canned Albacore tuna (2 6-ounce cans), drained (I use Wild Planet tuna)
What to do:
Preheat the oven to 350 degrees.
Bring large pot of water to boil and cook noodles to al dente because you will be cooking them longer in the oven. (OR roast spaghetti squash).
Heat large pan over medium heat and add butter or oil.
Add garlic, onion, celery and saute for about 5-6 minutes to soften. Add in proscuitto and mushrooms and saute for a few minutes longer.
Mix in the flour and stir, coating the vegetables.
In a glass measuring cup, mix the milk and mustard, pour into the vegetables, stirring to blend. Keep stirring until thick. Turn off heat.
Adjust thickness with more flour, milk or water.
Add salt, pepper, seasonings, lemon zest, vegan mayo, and any additional flavors you want to add. (I added some Chipotle hot sauce)
Stir in cooked noodles, tuna, and peas (Or other veggies you chose.)
Pour into greased casserole dish. Bake for 30 minutes until top is crispy and hot and bubbly.
If you like toppings on your casserole, consider mixing almond flour with some melted butter and minced garlic and parsley or even slivered almonds. Enjoy!