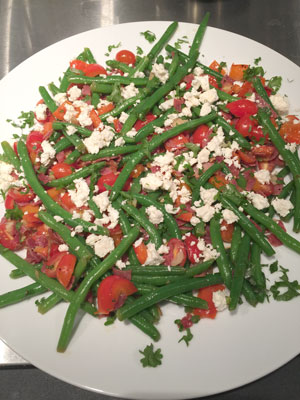 Eat Your Vegetables!
We all need to eat more vegetables! Instead of always making regular lettuce salad, this type of salad is something different and provides a lot of great nutrition! It is definitely a crowd-pleaser! It is SO YUMMY! I have even made it with organic salami because I did not have any bacon. Comments to the online version of this recipe were "crack green beans!" because they are so darn good! It will not disappoint!
Ingredients:
2 pounds fresh green beans, ends trimmed
1 pint cherry tomatoes, halved
¼ cup olive oil
3T freshly squeezed lemon juice
3 T balsamic vinegar
¼ tsp salt
Fresh ground pepper
2 cloves fresh garlic (or ¼ tsp garlic powder)
4 ounces feta cheese, crumbled
4 strips organic bacon, cooked crumbled (or prosciutto)
Balsamic glaze or fresh parsley garnish (optional)
What to do:
Cut bacon into small pieces. Fry in a pan with the 2 (or more)
cloves of garlic until fully cooked. Remove from pan & place
into a small bowl.
Cook green beans until tender in a pan of water, about 5-10
minutes. Do not overcook. Drain & pat dry.
Toss beans with tomatoes in a bowl.
For dressing: In the bacon pan, whisk together olive oil, lemon
juice, vinegar, salt, garlic powder, and pepper.
Pour dressing over bean mixture. Add garlic bacon.
Toss to coat. Cover and chill or set at room temperature*.
(approximately 3 hours)
Arrange attractively on white plate. Sprinkle with feta cheese.
Optional: Drizzle with balsamic glaze or parsley. Beautiful!