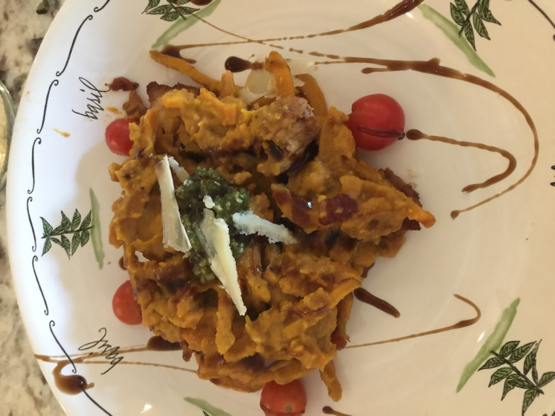 This vegan pasta sauce is really healthy and delicious. Just a few ingredients make this a tasty alternative to traditional creamy sauces! Instead of regular pasta, consider serving on "Zoodles" – aka zucchini noodles or sweet potato noodles! This recipe is especially great for those who are dairy sensitive or allergic and still want to experience creamy pasta! Give is a try!
Butternut Squash Creamy Pasta Sauce
Ingredients:
4 strips Applewood bacon, cut into pieces
3 cups butternut squash, cubed
1 clove Garlic, minced
1 cup red onion, chopped
1 cup broth, vegetable or chicken
1 ½ Tbsp fresh sage, chopped
1 ½ Tbsp fresh thyme, chopped
1 cup milk, (or non-dairy version – almond or soy)
2 Tbsp butter
Salt and fresh ground pepper to taste
2 # pasta (or zoodles)
Garnish options: pesto, sliced pecorino cheese, balsamic glaze, fresh herbs
What to do:
Melt butter in large skillet and saute onion for 1-2 min.
Add garlic, saute for 30 seconds, stir in squash, broth, sage and thyme. Stir and cover. Cook until fork tender, about 8-10 min.Transfer to blender or food processor along with milk.
Blend until smooth. Add more milk if needed. Salt/Pepper.
While sauce is cooking, cook bacon for about 4-5 minutes.
Cook pasta until al dente. Drain.
Pour pasta into pan with sauce. Stir and serve. Top with bacon.
Garnish with desired toppings.